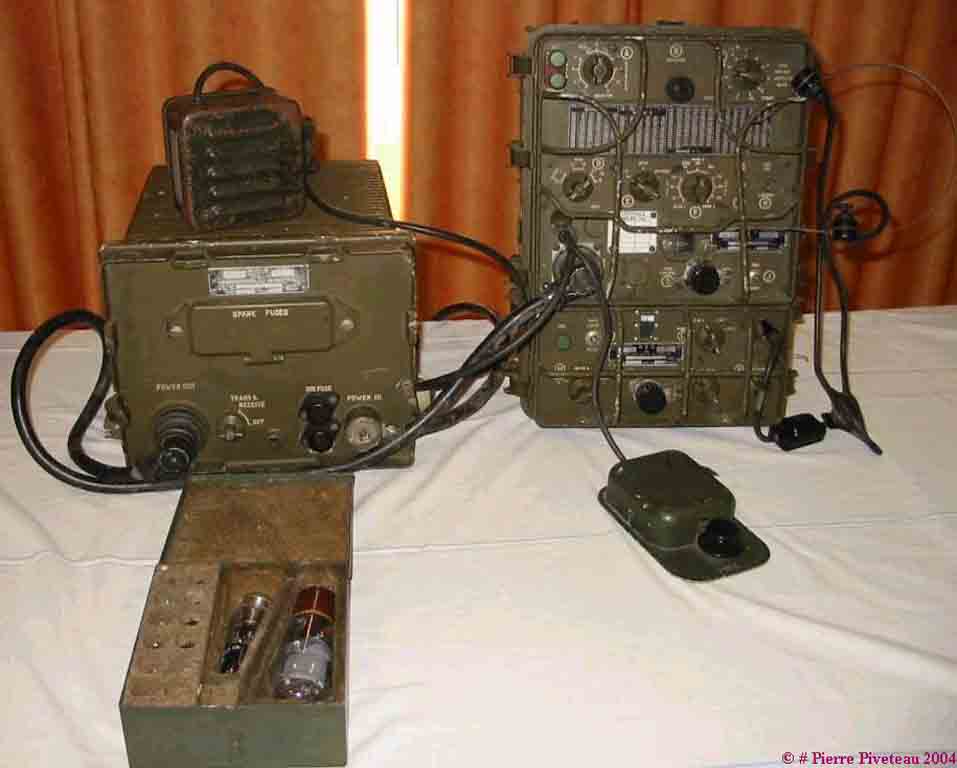 The AN/GRC-9, often called the "Angry Nine" because the set does not always does what the operator has in mind, is a 2-12 MHz, AM/CW, low power transportable radio set which can be vehicular mounted. It was released in the late 1940s and used through the Korean War and later in the 1950s by many country's The AN/GRC-9 replaced the SCR-284, SCR-288 and SCR-694 radios and was in turn replaced by the AN/PRC-62 and AN/PRC-74.
The complete AN/GRC-9 is a set of components for operation on Continuous Wave (CW), modulated CW (MCW) or AM from 2 to 12 MHz across three bands. According to TM 11-263 (1956), range is 30 miles on CW, 20 miles on MCW and 10 miles on AM (voice). Operation in a vehicle had shorter ranges, about half the above.
The main AN/GRC-9 component is the receiver-transmitter unit, RT-77/GRC-9, operating on two pre-set frequencies determined by crystal.
In addition to the electronic components, the complete system includes canvas bags, whip antenna mast with counterpoise 1/2 wave sloping wire (and erecting kit), straps, a T-17 microphone, J-45 telegraph key for CW operation, HS-30 head- set and LS-7 speaker.
Options
| | |
| --- | --- |
| PE-237 vibrator power supply | 6,12, or 24 VDC |
| DY-88/GRC-9 Dynamotor power supply | 6,12, or 24 VDC |
| DY-105/GRC-9 Dynamotor power supply | 24 VDC |
| PP-317 power supply | 115/230 VAC |
| PP-327 power supply | 115 VAC |
Other options included the GN-58 hand-cranked generator and the PE-162 gasoline engine generator. When operating the receiver only, BA-48 or any dry battery of proper voltage will operate the set.
Manuals
TM 11-263 + france suplement
TM 11-5820-453-20
TM 11-5820-452-20P
TM 11-5820-453-10